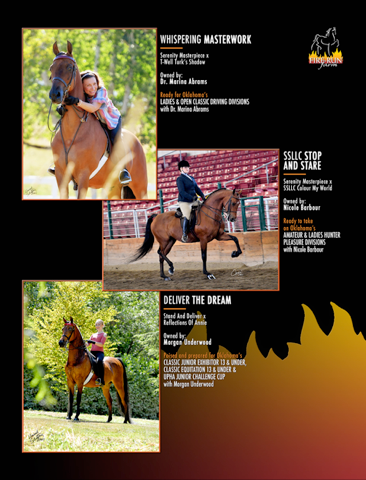 We like to stay on FIRE here in the Pacific North West! Continuing the tradition of breeding, raising, and training World Champion horses and teams, below is a little summary of the fun we have been up to.
Contenders:
Whispering Masterwork with Marina Abrams in the Classic Pleasure Driving Division.
EKL Shake It Off with John Huffard presented In-Hand
FCM No Boundaries in Park Saddle with Teri Rumens and Suzanne Haberek
Canabar Nickleback with Kayle Powlesland in the Hunt Seat Division
SSLLC Stop & Stare with Nicole Barbour and Suzanne Haberek in Hunter Pleasure Ladies
One Night Stand with Kayla Powlesland in Classic Pleasure Saddle
Deliver the Dream with Morgan Underwood in the 13&Under Classic Pleasure Saddle division
Results:
We all know the infamous lyrics by Taylor Swift:
"I never miss a beat, I'm lightning on my feet
And that's what they don't see, that's what they don't see
I'm dancing on my own, I make the moves up as I go
And that's what they don't know, that's what they don't know
But I keep cruising
Can't stop, won't stop moving
It's like I got this music in my mind
Saying it's gonna be alright
...Baby, I'm just gonna....shake, shake, shake..."
EKL SHAKE IT OFF was indeed living up to the name as the UNANIMOUS VICTORY for both the Grand National 2 year old stallion and the WORLD CHAMPION Junior stallion division. Taking the industry by storm in his first-ever appearance.
The lightning on our feet didn't stop there.
Kayla Powlesland rode one bold and naturally talented gelding, One Night Stand, to the Grand National title and roses in the Classic Pleasure Saddle division for youth riders, and didn't stop there. She then rode for a strong reserve placing in the Grand National Classic Pleasure Saddle Stallion and Geldings division. Switching gears, she also rode Canabar Nickleback to a top 5 finish in the Grand National Hunter Seat Adult Equitation class - demonstrating her technique in the saddle.
Nicole Barbour with SSLLC Stop and Stare came through the gateway of Champions in a bold violet show coat, aboard this prancing bay hunter mare. Together they made strong appearance in the Hunter Pleasure Ladies Mare and Amateur Mare divisions, ultimately placing top 10 in what was probably the most competitive and voluminous Hunter division showing in Oklahoma to date.
A new team debuted in Oklahoma under the Fire Run Banner - Morgan Underwood, in her first year showing saddleseat is described as an enthusiastic rider, and always looking for continual growth and riding opportunities. She piloted her new mount - Deliver the Dream to top-10 finishes in the 13 and under Saddle Seat division, as well as Top 5 in a competitive World Championship for the division.
The Classic pleasure driving division didn't stand a chance with Fire Run Farm around. Marina Abrams drove right into the winner's circle with Whispering Masterwork with the reserve title in the Grand National Classic Pleasure Driving Ladies Gelding division. From there, their success continued for Top 5 finishes in a very competitive World Championship classes.
Teri Rumens climbed into the irons in the Grand National Park Saddle Division above the gleaming mare, FCM No Boundaries. And boundless they are, riding to reserve Grand National Champion Park Saddle Mare for the amateurs.
And then, there is the class of all classes, the part of the show the walk-trotters beg to stay up late to watch, the junior exhibitors color their notebooks with, and Amateurs applaud in awe. Class number 250, the last, but not least competition amongst competitors.
"Many aspire to even have a contender, let alone be in the running. It was a surreal moment for me" said Suzy Haberek, just days after the performance of a lifetime piloted this athletic mare to top 3 honors in the World Champion Park Saddle class.
For more information about our horses, please contact us.